Horizon Plugin for WordPress ヨ Menu Bar
Horizon Plugin for WordPress is a two-level menu bar plugin for WordPress, designed to add a little life to your siteメs header or footer. It can be used to highlight certain posts or pages, house your social links, serve as a location to place e-mail and/or phone call buttons to, etc.
By default, Horizon Plugin for WordPress does not interfere with your existing navigation and instead serves as an effective secondary menu.
However, should you choose to make Horizon Plugin for WordPress your primary menu, it is entirely possible to hide your existing menu(s) through the included settings. Horizon can also be shown on a specified resolution range only, meaning it can even serve as a mobile-only menu if youメd like.
All in all, with a massive amount of icons, numerous settings and customization options to choose from, Horizon Plugin for WordPress uses are many.
Quick facts about Horizon Plugin for WordPress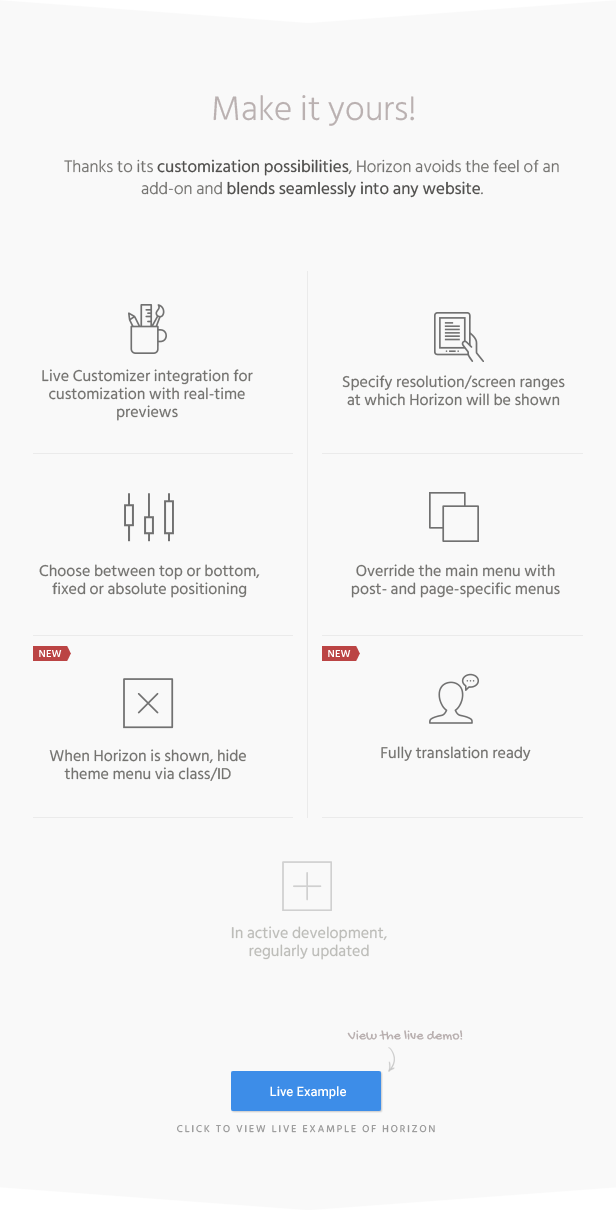 Works everywhere: whether viewed on desktop or mobile, Horizon scales gracefully regardless of screen size.
Customizable: Choose from 900+ icon, change all colors, position at at top or bottom of screen ect. Horizon Plugin for WordPress will blend seamlessly into any theme!
Clean, marked code: If you like to ムpop the hoodメ so to speak, then know that our code is well-marked and easy to navigate.
Great value: With continued updates and features additions, you will reap ever-increase value from your purchase.
Top-tier suport: Should you ever need to get in touch with us, you can depend on our much-praised response times.
Horizon Plugin for WordPress Features
Beatifully animated 2-level menubar
Choose from 900+ icons
Add to any theme
Fully responsive all the way down to mobile screens
Make changes using the built-in WordPress customization tools and preview changes in real-time
Position at top or bottom of screen
Fixed or absolute positioning
Optionally show at specified resolutions only
Optionally hide your theme menu by class/ID
Display only icon (label appears on hover) or have both the icon and label be visible at all times
Ability to override the main menu with post- and page-specific menus
Use of icon set means every pixel will look as sharp as it possibly can on retina screens
Translation ready